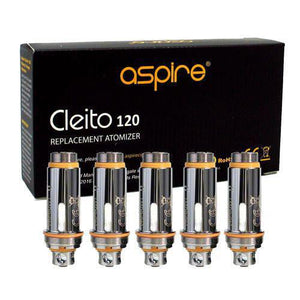 Aspire Cleito 120 Coils
Genuine replacement Aspire Cleito 120 Coils for the revolutionary Aspire Cleito 120 Tank and Cleito 120 Pro Tank come in a 5-pack. Aspire has taken the original Cleito coil design and cranked up the performance for high-wattage vapers.
The 0.16 ohm Standard Coil is a Clapton-style coil design with increased airflow and improved wicking, making the coil capable of high-wattage vaping up to 120 watts.
The 0.15 ohm Mesh Coil features a Kanthal meshed design which increases the surface area when heating the organic cotton wicking to create richer flavor and increased vapor production.