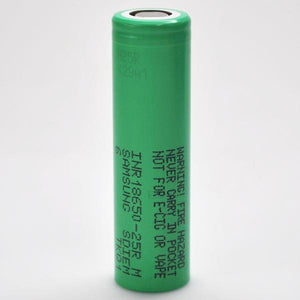 Samsung 25R 18650 2500mAh 20A Battery
These Samsung 18650 batteries are the perfect batteries for vaping, made by Samsung, these cylindrical, flat top, 18650 battery cells are rated at 2500mAh and have a CDR of 20 Amps.
Specifications:
Nominal discharge capacity: 2,500mAh
Nominal voltage: 3.6V
Standard charge: CCCV, 1.25A, 4.20 ± 0.05 V, 100mA cut-off
Rapid charge: CCCV, 4A, 4.20 ± 0.05 V, 100mA cut-off
Charging time: Standard charge : 180min / 100mA cut-off
Rapid charge: 60min (at 25°C) / 100mA cut-off
Max. continuous discharge: 20A(at 25°C), 60% at 250 cycle
Discharge cut-off voltage: 2.5V
Cell weight: 45.0g max
Cell dimension: Height : 64.85 ± 0.15mm, Diameter : 18.33 ± 0.07mm
Operating temperature (surface temperature): Charge : 0 to 50°C (recommended recharge release < 45°C), Discharge: -20 to 75°C (recommended re-discharge release < 60°C)
Storage temperature (Recovery 90% after storage): 1.5 year -30~25°C, 3 months -30~45°C, 1 month -30~60°C
Dimensions:
64.85mm (L) x 18.33 mm (D) Weight: 45.0g
Warnings:
-Do not overdischarge or overcharge
-Recharge drained batteries ASAP
-Do not short circuit
-Do not dispose of in fire
-Do not expose to extreme heat
-Do not expose to water
-Please be familiar with handling lithium-ion batteries before purchase.
Please note: Due to the nature of this consumable product, no returns are allowed unless the product is defective upon receipt/dead on arrival.

Due to the nature of unprotected batteries, our warranty and exchange policy will not apply since it is impossible to determine how a battery was utilized or treated after receipt by the customer. These batteries will only be covered under our DOA exchange. Please contact customer service directly concerning battery DOA issues.